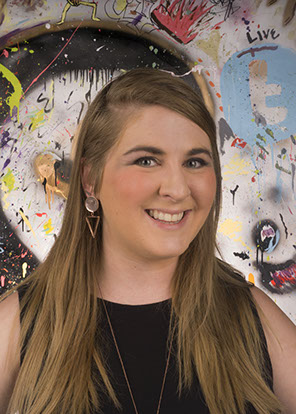 Email: daidaniel@valdosta.edu
Website:
Instagram:
Artist Bio:
Daisy Daniel was born in Florence, Alabama but calls Tifton, Georgia home. As a child, she loved being a storyteller and creating her own worlds and characters through writing and making art. Themes of gender, power and identity that is formed from family and southern culture framed her art-making and appear throughout her photographs and paintings. Daisy blends analog processes of art-making with digital processes to create visual narratives that continue her passion for story-telling. Daisy currently works at Lowndes High School teaching Visual Arts and will receive her Master's degree in Art Education while continuing to teach at LHS.
Artist Statement:
When I paint and when I photograph, I frame the narratives of moments we face in our relationships and how we reconcile power, boundaries and honesty between others and ourselves. Robert Mapplethorpe's black and white portraits, as well as the emphasis both Eric Fischl and Edward Hopper place on depicting light as subject itself influence my portraits and narrative scenes.
As I tell my stories visually, I direct models in to compositions for my photographs and mold them into subjects for my paintings. Subject and story are essential to my artwork, and through the direct control of analog process of film photography and painting, my hands bring my stories into fruition and I become a storyteller.
Dirty Sink
Inkjet Print
11"x17"
2017
Pause
Van Dyke Brown Print
10"x8"
2016
Up To No Good
Inkjet Print
11"x17"
2017