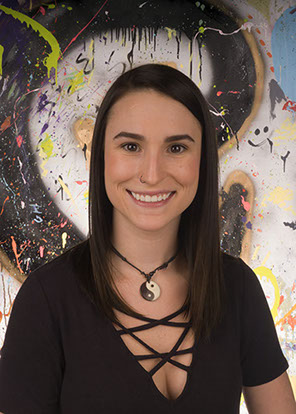 Email: majaime@valdosta.edu
Website:
Instagram:
Artist Bio:
Maria Jaime has roots in the small South Georgia town of Leesburg where she grew up in very tight knit southern home. Always encouraged to express herself by her family, Jaime completed her B.A. in Art degree at Valdosta State University. She Enjoys working with many mediums including painting, ceramics, and sculpture. Her inspiration if found in the traditional crafts and the idea that handmade is beautiful. Jaime gravitates towards the use of repetitive mark making, abstracted forms, and a set color pallet with the purpose of creating a desirable and pleasing viewing aesthetic. Her work tends to reflect her love of folk art and decorative art.
Artist Statement:
Growing up I always was known as being "crafty" or "creative". My mother and I would often travel to craft fairs and antique shops. I recall repeatedly browsing the shelves of eclectic folk art and being intrigued with idea that something as simple as painting a name in a pretty font, could become such a treasure to someone. Everything handmade became beautiful to me. Many artists have worked effortlessly to bring light to craftwork and ensure it gets the recognition it deserves. I create to continue that blurring of the line that previously existed between craft and art. I am drawn to ceramics, sculpture, and painting because these mediums allow my hands to be at the root of the creation. Each creation is made with the thought of it eventually belonging in someone's home, and within someone's hands. I choose to decorate my surfaces with intuitive design, because I enjoy the idea of someone seeing my thoughts as a beautiful object. I gravitate towards the use of repetitive mark making, pattern, and abstraction with an emphasis on hand drawn qualities. My current color pallet consists of colorful yet muted earth tones, with contrasting hues. The abstraction of natural, organic and geometric forms, form connections between my works.
Untitled
Watercolor on Paper
16"x 20"
2017
Self portrait
Oil on Canvas
24" x 36"
2018
Stacking Appetizer Plates
Stoneware, cone 6 Oxidation
7.5" x 7.5" x .75"
2017