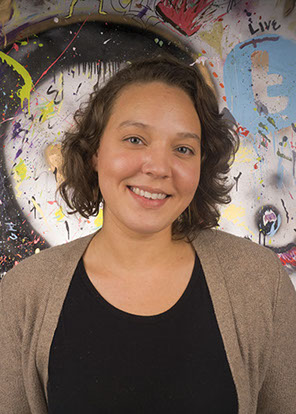 Email: margray@valdosta.edu
Website:
Instagram:
Artist Bio:
Marlene Gray is a freelance artist who lives and works in Lowndes County, Ga. Marlene creates works of art that incorporate written words of encouragement that are used to inspire the viewer. Though her main focus is painting, she also explores other art forms and mediums such as photography, graphic design, and sculpture. Marlene has achieved an Associate's degree in Marketing Management and she will receive a Bachelor of Fine Arts degree from Valdosta State University in the spring of 2018. Gray's work has been juried into the Southwest Georgia Art Exhibition where she was awarded Honorable Mention in graphic design and photography. She has received the college of the arts excellence scholarship and the Ola Lee Means scholarship while at Valdosta State University. Upon graduation, Marlene plans to continue her career as a freelance artist.
Artist Statement:
As a child, I observed my father piece billboards together for Lamar Advertising Company and then paint detailed ads on the massive backdrops using text. Through years of observation, his work has been engrained in my nature by the application of paint through his brush strokes, the smell of mineral spirit and his hard work and resourcefulness. By watching my dad develop letters that formed words, I realized the power of text to communicate a message. I fell in love with art, the use of letters and the ability to express myself artistically.
Like any life, my life has been full of ups and downs. In 2010, my life fell apart. I lost my family, my business, my home and my money. I was humbled and devastated. Broken, I realized my need for something greater. I realized my need for God. Through this realization I embraced my faith and my love for art. As a result, I've combined learned behavior with my faith in Jesus Christ noting that my desire to use text not only comes from my dad's process but also represents my own personal experience with my Creator.
The separate canvas panels used in some of my work are directly influenced by the individual pieces that form a billboard. The scripture incorporated in my work is used because I firmly believe that God dwells in everything. I use this text to encourage, convict, and raise questions in the viewer concerning what they believe about existence. It is my artistic mission to convey the beautiful but serious message of living through lettering, faith and to represent the God who saves. My overall intention through any medium of art I pursue is to reflect Him.
Blurred Vision
Digital Color Photography
11"x14"
2017
Self Portrait
Oil on Canvas
40"x30"
2017
The Word Reigns
Mixed Media
36"x24"
2017